Superior Quality and
Customer Satisfaction.
WE STAND BY OUR WORK.
Visit Dave's Auto and Truck Service in Landenberg, Pennsylvania, right next to the Landenberg Post Office, for all your repair services. Keep your domestic, foreign or hybrid vehicle running smoothly with quality automotive, truck and tractor repair services from Dave's.
Our ASE®-certified technicians deliver prompt and friendly services at reasonable prices. A detailed estimate of all costs involved, both parts and labor, is presented to you for your approval prior to repair or service.
GREAT SERVICE, GREAT PRODUCTS
You'll get great workmanship combined with high-quality products when we work on your vehicle. Our business is family-owned-and-operated, and it shows in our attention to our customers. Dave's can repair all of your trailers and truck bodies. We work on all makes and models. From small bumper hitch trailers to large semis. We provide state inspections and emission testing.
NEED NEW TIRES?
You can choose your new tires from our family of brands you can trust. Have a favorite brand of tires? Let us know, we can get them!

Family Owned Since 1975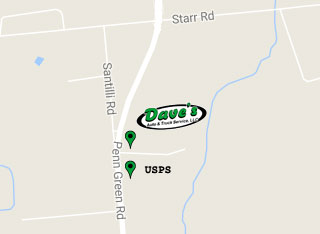 655 Penn Green Road, Landenberg
SERVICE HOURS
Monday

8:00am – 5:30pm

Tuesday

8:00am – 5:30pm

Wednesday

8:00am – 5:30pm

Thursday

8:00am – 5:30pm

Friday

8:00am – 5:30pm

Saturday

Closed

Sunday

Closed
GENERAL REPAIR
If it's on the road, we can repair it. Our auto repair services cover all kinds of cars and trucks, recreational vehicles and even horse trailers. From minor jobs like an oil change or a tune-up to complicated electrical diagnostics, Dave's Auto Service can get you back on the road in no time. We do alignments, mufflers, air-conditioning, water pumps, and the manufacturer's scheduled maintenance.
STATE INSPECTIONS / EMISSION TESTING
Once a year you need to have your vehicle's lights, brakes, and tires checked to make sure that they are within state guidelines. After performing the inspection, we can immediately fix any problems that we find and get you back on the road legally.
TRACTOR AND TRAILER REPAIR
Keep your big rig running smoothly with our repair services. From tire repair to engine tune-ups, our services will keep you on the road. If you are in the area we can come to you, plus we do State and DOT inspections on trucks and trailers.
ABOUT US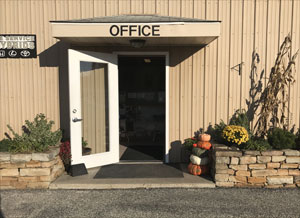 Since 1976, Dave's Auto Service has been family owned and operated serving Southern Chester County. Dave Carlin started this business more than 40 years ago. Since 2015, Greg Carlin, Dave's son, has owned and operated Dave's Auto and Truck Service. Greg Carlin's leadership continues to meet the challenges of the auto repair business as it has evolved from basic repair to increased reliance on computerized diagnostics and repair. Our locally-owned business provides the kind of reliable work you need to keep you on the road.
Car Problems?
BRING IT IN!
We can help. Stop by or give us a call at (610) 274-8724. For additional happiness, print the coupon.